In this blog I share some reflections from my return to Ireland in December, a summary of some of the projects that I have been working on from México, my upcoming trip to Ireland at the end of April and a thought-provoking quote from the legendary Seneca. (c. 6 mins read)
__________________________
Rewind. December 6th 2018, exactly 19 months after leaving Ireland
Thursday December 6th, 6am, the alarm went but I'd been awake for hours. A mixture of jet lag from the long-haul flight a couple of days earlier, a wandering mind processing being back in Ireland again after so long away and the restless anxiety of wanting everything to go well for the day ahead. My workshop had been months in the making, but the journey had begun in Guatemala 18 months earlier when I started to immerse myself in the world of impact investing.
A hot shower to get the blood pumping, some porridge and a strong cup of coffee and I was on a familiar walk to the Luas stop in Ranelagh. It all felt a bit surreal, my mind adjusting to being back in the place I had lived for so many years while at the same time I found myself walking through the inner slideshow of my experiences from Latin America.
Still, I had an excitement in my step as I was about to share a part of my adventure with those attending my workshop. Not long after 7am, the first Luas was full, so I had to wait for the second. An economic indicator that 'the good times are back' maybe, I pondered. Almost full, I squeezed into the next Luas with the other sardines. There was no shortage of glum looking faces grinding it out, a reminder that the good times are not always that good.
'One of your guests has already arrived', the lady working in the Shelbourne Hotel informed me, as she directed me to my meeting room upstairs. Seeing the event name out front gave me great pleasure. Just seeing Guatemala in the name brought me back to my apartment in the hills of Xela. A long way from Guatemala now I thought to myself, amidst the plush surroundings of the Shelbourne.
Entering the room, I was greeted by a trustee who I had worked with for years, sitting comfortably reading the Irish times and drinking a coffee. 'Ah Vincent, welcome back. Good win for Liverpool last night. This could be the year'. You can't beat a friendly face. Any pre match anxiety was gone.
The workshop went great. Four hours is quite long but with an engaging audience the time went by quickly. I've always believed that there are two key ingredients to delivering a successful workshop or presentation. The first is your understanding of the subject matter. However, equally important is the passion and interest you have for it. It is that special something that illuminates the knowledge you are sharing with your audience; it goes beyond just doing a job.
Afterwards, I caught up with some friends in the bar downstairs and the few celebratory drinks went down well. It was a marking of the perfect return to Ireland, a culmination of experiences that had led me to that moment. Leaving Ireland in May 2017 I left with an open mind on where the adventure might take me. In the end it took me back to where I started, just with new perspectives, knowledge and wisdom. The only motive for it all was the desire for a new challenge and self-development.
Life does not always go according to plan
Life can surprise you though when you least expect it. From the highs of that Thursday, the following Tuesday I was in an ambulance to St Vincent's hospital after an early morning health scare. I won't get into the details, but I am okay. I am just grateful that I was in my brother's house for his help and that I was in Ireland. Like most people I don't like hospitals, but the hospital staff were great. A few days in hospital provides a quick dose of perspective.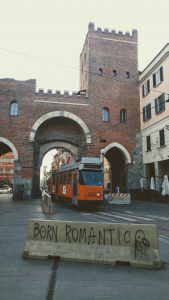 As a result, my trip didn't quite go to plan and I couldn't meet everyone I'd hoped to, but of the people I did get to meet while I was back it was great to see them again. I also got to spend some quality time at home with my family in Ardmore, Co. Waterford. As well, my 10 days in Italy, which I had previously planned, ended up being a nice recovery trip. Italians in one word. Food!
Working from México
I returned to México in the last week of January, back to my base here in sunny Mazatlán, the pearl of the pacific. After a few days of reacclimatising and getting back into Spanish speaking mode, I returned to work on various projects, some of which I have outlined below:
1. Centro de negocio | Impacto, Educación, Finanza Inclusiva
One of the projects I have been working on here in Mazatlán which is particularly interesting is the development of a small business centre with a focus on impact. A core part of the idea is to try and deliver real impact by promoting financial inclusion through education.
Financial illiteracy is a problem worldwide but in countries like México it is even more widespread. The people here are admirably industrious; sometimes all that is missing is basic financial education to be able to make more of their efforts. I see this project as having a huge potential to make a positive contribution to the community here.
2. CoTerra Impact | Independent Consultancy
I have also been focused on developing my consultancy practice CoTerra Impact. Building on my work from last year, I have been busy fine tuning a series of educational investment workshops and various templates and frameworks covering everything from financial analysis, financial plans, investment committee structures, investment reviews, fund research and more.
We live in an age where remote and freelance work is becoming more the norm, so I see no reason for the need to work just from Ireland. If required I could be on a flight to Dublin in the morning for a project or equally the United States is just a stone's throw away. I also see huge opportunity here in México and Latin America in general; and between regions.
As it happens, I am flying to San Diego in less than two weeks and I am back in Ireland at the end of April for a few months to work on some projects and to meet with potential clients. So, if you want to meet up to discuss potential projects or my services in more detail drop me an e-mail vmccarthy@coterraimpact.com. Anyone that has worked with me in the past will know the quality and diligence of my work. To everyone else, I welcome the opportunity to prove it.
(Website: www.CoTerraImpact.com)
3. ESG.ie | Empowering Responsible Investment
Most recently, I developed ESG.ie, an independent knowledge centre focused on delivering the latest news and insights on the practical application of Environmental, Social and Governance (ESG) criteria in decision making frameworks. Unfortunately, Ireland remains a laggard in this area. The purpose will be to go beyond the jargon and to bring a more real world understanding of how to apply it.
ESG.ie
is particularly timely for pension scheme trustees given that the European IORP II directive came into effect in January 2019 for Irish pension schemes, requiring trustee boards to disclose how they consider the ESG criteria in their investment decision-making processes. My expectation is that regulation will only become more stringent on how companies and investors integrate ESG within their decision-making frameworks.
Larry Fink, CEO of Blackrock, the largest asset manager in the world is projecting exponential growth: "Sustainable investing will be a core component for how everyone invests in the future," the BlackRock chairman and chief executive said in an interview with the FT. "We are only at the early stages." He estimates that "assets in ETFs that incorporate these "ESG" factors will grow from $25bn to more than $400bn in a decade".
Final thought
Apart from my work related to finance and investments, philosophy is where I continue to exercise my mind. I leave you with a quote from Seneca, the great stoic philosopher, whose letters I am currently reading. Advising his friend Lucilius on the importance of exercising the mind in the pursuit of wisdom "to strive and develop", Seneca wrote:
"Cultivate an asset which the passing of time itself improves."
End
Chente
(Source: FT Article, Oct 2018: BlackRock stakes claim on 'sustainable investing' revolution https://www.ft.com/content/f66b2a9e-d53d-11e8-a854-33d6f82e62f8)